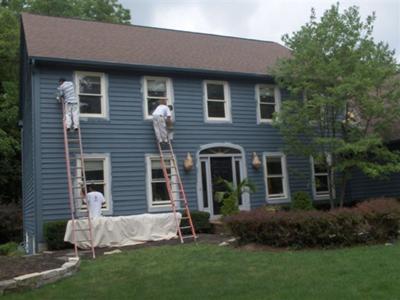 The exterior paint job of your home or business gives important signals about the nature of what goes on inside.  That's why it is so important for both families and businesses to show their best side with flying colors.  Businesses can give potential customers the right impression by the paint job they show on the exterior: so if you're either a chain store or an independent business, why not touch up or redo your exterior paint?  You'll be surprised about what a good exterior painting job can do for your reputation -- and we at Power Wash This wouldn't be surprised if we're not just the exterior painting experts to do it.
What your home looks like on the outside is an important way to give a first impression to friends, neighbors, and your family -- and who doesn't want to give a perfect first impression?  We at Power Wash This do a huge amount of exterior painting in our liine of work.  We like to see ourselves as experts at exterior painting.  We have helped hundreds of families and businesses in Richmond, Virginia, and beyond to give the best possible first impression through our exterior painting services. Through our expert painting services and our commitment to quality, we are able to offer exterior painting that spans a range of painting styles and tastes for our clients.
Oftentimes, our pressure washing service may expose worn parts of your home or business that are in dire need of paint or other types of minor restoration.  We have an expert crew trained to restore your home's or business' exterior to new again.  When going out for an estimate, we may detect parts of your exterior which will need post power wash touch ups with respect to cleaning and/or minor restoration work.  We will notify you immediately upon detecting these and of your options.