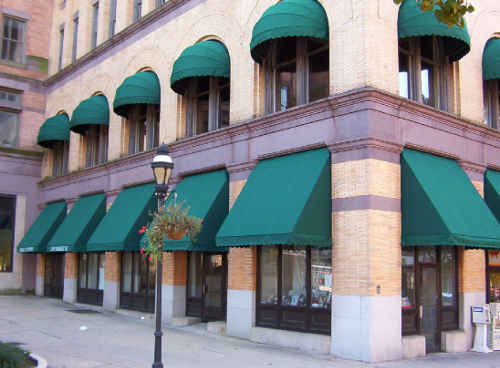 Having your storefront awnings power washed makes a huge difference!  Regularly scheduled quality cleaning:
Enhances your business image
Extends the life of your awning
Helps you to meet manufacturer's warranty maintenance requirements
Increases resistance to damaging environmental elements
Reduces fading and color loss
Enhances advertising value and effectiveness
The image your company portrays begins with the exterior of your building, and your awnings are part of that image. Professional awning cleaning can help you protect your investment. Power Wash This uses specially formulated cleaners and sealers to clean and protect awnings and canopies. We use a low pressure designed to maximize cleaning while maintaining the integrity of your awning material. We have designed a unique cleaning process which utilizes gentle washing, low pressure rinsing, chemical treatment, and protective sealers which clean and protect the material. The process removes deeply embedded soil, grime, bird droppings, and pollution; revitalizes the appearance of your awnings, and restores the awning to its original, colorful condition.
Our Services Include:
Dirt, Soil and Grime removal
Bird droppings removal
Mold/mildew removal
Protective sealer treatments application
Exterior and interior surfaces cleaning