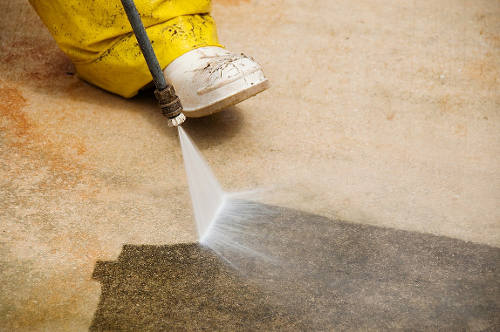 Although concrete is an extremely hard and durable material, it is very vulnerable to damage from erosion, freezing water, salts, and oils. Much of this damage can be avoided by simply pressure washing and weather-proofing in order to protect your concrete or aggregate driveway, patio or sidewalk.
In addition to protecting your investment, regular power washing and maintenance keeps your concrete driveway, sidewalk or patio looking new and attractive. Mold, mildew, salt, and dirt easily embed in unprotected concrete, making your otherwise beautiful driveway look dull, black and dirty.
Power Wash This can provide you with a plan to stop any damage already in progress, as well as a comprehensive maintenance plan to clean and protect your concrete for years to come. Our professional crews can perform Aggregate Cleaning and Sealing in Richmond, Virginia and the surrounding metro areas.  Give us a call today for a free estimate!
We offer several different options depending on your needs and the type of concrete you might have.
Pure Acrylic Aggregate Sealers:
These are the most common sealers used on exposed aggregate in our area. They offer good protection, color enhancement, and a high gloss finish. As a general rule acrylics need to be maintained every 24 months.
Penetrating Aggregate Sealers:
These sealers offer the newest technology and protection for your concrete. Penetrating sealers work 100% below the surface of the concrete to seal and protect. They are almost always the best choice for regular broom finished concrete, but work just as well on exposed aggregate. Penetrating sealers do not change the look, color or traction of the concrete like acrylics do. Depending on the sealer you choose, life will range from 3-7 years.
Aggregate Stains, Dyes and Coloring Systems:
Depending on your budget, needs, and desires, there are many different options for coloring and enhancing your existing concrete. We use only the highest quality concrete sealer and stain products to give you the results you expect. Give us a call to discuss your options and see our beautiful color samples.