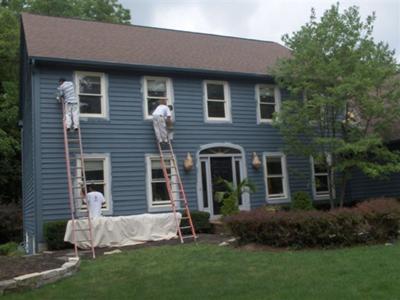 Power Wash This painting offers a wide variety of exterior painting work. In most cases residential homes as well as commercial buildings need to be cleaned before the process of exterior painting or staining can start. Any previous surface that is peeling or severely degraded needs to be removed before we can start painting.  Usually scraping off the old failing surface then applying the primer coat is a sufficient means. After the preparation is complete we offer many finishes and types of latex paints that can best suit your home for longevity and beauty.
There are also many exterior staining procedures that are available for your home. The most common three finishes that are applied are solid stain, semi-transparent stain and a sealer non coloring stain. Solid stain gives the appearance of paint but at the same time does not seal off the wood from breathing and is recommended when the customer is looking for the longest rate of survival for there project on a wood breathing surface.  The next would be semi-transparent stain which is applied when a customer is looking for color but not looking to cover the grain of the wood surface. This application generally lasts up to four years depending on color and weather conditions. The last would be a sealer application which is used best on wood from new construction and when the wanted result is just preservation of the wood. This will not last very long and more maintenance would be required shortly. It will make the wood surface appear to have a "wet shine" after it is applied. Feel free to contact us to have a representative come and show you all the options so you may best decide the new surface for your home.
Powerwashing
Power Wash This does power washing on all the exterior work we contract when necessary. We are also available to power wash your home if you have vinyl siding or other synthetic surfaces that you wish to clean. We will wash up to 3 stories high unless we are contracted on a commercial job. Powerwashing on residential homes is done with a "lower power machine" and a cleaning chemical. "Higher power machines" are only used on masonry or commercial type structures to avoid damage to the siding or the wood which is being prepared for paint. To find out what it would cost to clean your home, decks and patio's or to clean your commercial building just simply contact us and we will be glad to send a representative to have a look.
Wood Replacement and Preparation
Power Wash This prides itself with doing the complete job. Often our projects need much preparation before the finishing can be started. Wood replacement such as bad fascia boards, porch steps, window casings, trim work, shingles or any cedar type surfaced is easily repaired by us. This is much more cost effective than hiring an outside carpenter to come and repair just a few small issues. After all repairs are made, depending on the finish surface required, the preparation of the job is put into affect. With a painting job all the windows are caulked and all trim holes are sealed and caulked as well. In the event that the house is being stained, other than solid stain, the preparation varies greatly between situations. Rest assure we put our name on nothing that will not stand up. 100% satisfaction guaranteed!!!
Historical Renovations in Richmond and Virginia
We have done and extensive amount of historical properties over the years. Knowledge of older buildings has gotten us an outstanding reputation in repairing our "Old World Treasures."  Upon notification of your project, our senior staff will visit the home to give a full, free assessment of the project, detail how long it will take, and determine the cost.  Often we have shutters from the 1800's and trim work that is either destroyed or has just fallen off over the years. There are usually holes in the sidewalls and possibly leaking wooden gutters. Window glazing is generally falling off as well. This is our company specialty. Many times we can exactly replace the missing trim pieces on the building. Shutters quite frequently can be taken apart and repaired back to a fine working and looking order. All holes on the building from weather splits, animals or detrimental unknowns are repaired back to good standard. There is such a wide variety of work that goes into these historical buildings it is virtually impossible to discuss all situations. Within our photo gallery you may look at some of just last years projects.