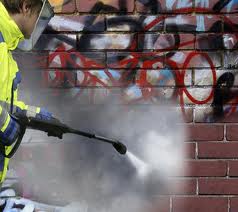 Nothing detracts from a residential or commercial building quicker than graffiti.  Fast and effective graffiti removal is important not only to the business hit with it but also to the neighborhood.  We have special pressure washing tips and detergents to power wash off that graffiti.  We can remove graffiti from brick walls, vinyl siding, concrete, metal, pavement, stucco, wood and glass among other surfaces. 
Cleaning off graffiti can take a long time with absolutely zero results.  Power Wash This is experienced in cleaning all types of surfaces and chemicals.  We can make your building shine again!
Contact us today to schedule an appointment for us to removal that graffiti today.